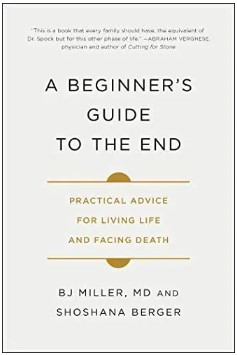 "A Beginner's Guide To The End: Practical Advice For Living Life And Facing Death" by BJ Miller, MD and Shoshana Berger.
Among the many books on end of life planning, this book rates as one of my top favorites, mainly because the advice it gives is so comprehensive and practical. Reading this guidebook is akin to listening to your most trusted friend lay out an action plan to navigate all the ways to control our most complicated (and sometimes easiest) things to forget when making end of life plans. Included is valuable information on: completing advance care directives, navigating health care, decluttering, how to talk to family about your approaching death, and survivor after-death tasks such as closing social media accounts, and so much more. This book is not only for the dying, but also for caregivers, family members, and anyone that is simply interested in this 'life and death' subject.
"Our ultimate purpose here isn't so much to help you die as it is to free up as much life as possible until you do." 
Dr. Miller's quote points out the importance that having the freedom to live as you wish until your dying day can be achieved when action plans are put into place. This guidebook should be in every home, hospital resource center, senior center and the like. You don't have to read this book cover to cover. Simply review the table of contents and begin with any chapter that resonates to you. There are pearls of wisdom found throughout the book and I loved it. Check your local library or purchase as a print, audio or e-book. Also check out Dr. BJ Miller's website for more great resources here: 
https://www.thecenterfordyingandliving.org
Until the book ends, – Esther Suarez, Lake County Hospice Volunteer 
What Really Matters: 7 Lessons for the Living from Stories of the Dying" by Dr. Karen Wyatt. This book shares many heartfelt stories from her dying patients and their family members. Inspired from these stories, Dr. Wyatt has structured the book as a life guidebook. The "lessons" she shares include: suffering, forgiveness, fear, love, and more. These provide us a foundation to reflect, revisit and possibly reframe how we choose to think about "What Really Matters" to each of us.
I love this book because she synthesizes so many of the gifts dying patients have also shared with me. Dying really can illuminate the quality of our lives, as this book beautifully shows. Check your local library or purchase as a print, audio or e-book; I think you too will love it.  You may also enjoy Dr. Karen Wyatts website, eoluniversity.com EOL stands for end of life. There you will also find a free "What Really Matters" workbook that can serve as a great companion to her book.
Until the book ends, – Esther Suarez, Lake County Hospice Volunteer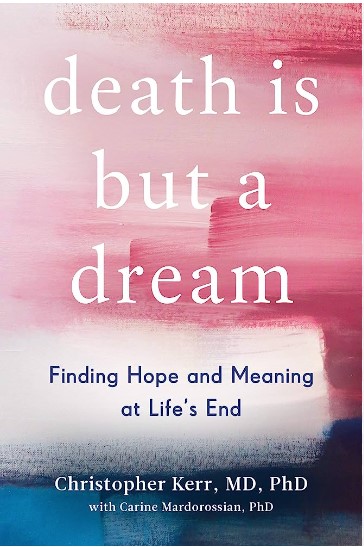 Sitting bedside with over a thousand patients, hospice doctor Christopher Kerr could not help but notice how pre-death dreams and visions are an integral part of the end of life experience. Expanding his medically trained mind, Dr. Kerr took a decade-long dive into the significance of end of life dreams and visions. His research shows that dreams and visions very often provide the dying an unquestionable sense of love, peace and forgiveness. Even for patients whose trauma seemed unforgivable, after working through the stages of anger and grief, dreams eventually provided peace and freedom for them to die on their own terms.
The book shares fascinating stories of dying patients, from the very young, to grandparents, developmentally disabled, former felons, and more. The common theme of meeting deceased loved ones (including pets) isn't about proving if there is life after death, but does demonstrate that pre-death dreams happen very frequently, and give great peace to the dying. Grieving family and friends of the deceased also find great comfort in knowing that their loved ones felt transcendent peace as they died. Dr. Kerr says this, "The dying most often embark on a hopeful journey in which they are embraced one more time by those who once gave their lives meaning, while those who hurt them drift away. Death is also a form of final justice, one in which the scales are balanced by love and forgiveness." 
Whether the reader has explored the dream world deeply or not, they should find in this book a deeper insight into the meaning of pre-death dreams, and what we can all learn from them. Being a lifelong dreamer myself, I intimately understand how dreams can prepare me for what comes next. Dreams can teach us a great deal about love and forgiveness, certainly two of life's most challenging lessons.
Find this book at your local library or purchase it as print, e-book or audio book. Also, Dr. Kerr's website https://www.drchristopherkerr.com is a fantastic in-depth resource. It includes links about the movie (of the same title) he made, based on the book. 
Until the book ends – Esther Suarez Lake County Hospice Volunteer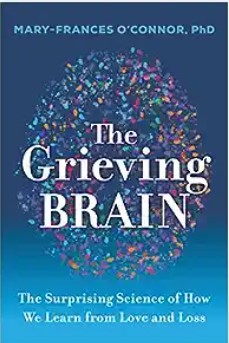 "Grief changes the rules of the game, rules that you thought you knew and had been using until this point." 
According to the author, "rules" related to grief are about being open to new experiences, because grief is essentially about learning something new that you never fathomed you would be trying to learn, or even desired to learn. 
In this trailblazing scientific journey into exactly how the brain processes grief, neuroscientist and psychologist Mary-Frances O'Conner, PhD, invites the reader to look at grief from the perspective of how the brain is designed for learning even in the face of painful loss. The wiring of neural pathways to develop attachment/love becomes neurologically ingrained over time. When someone experiences loss, a rewiring process slowly begins. Understanding the neurology of loss can be very helpful in feeling that one is not going crazy when waves of intense grief come on. The brain processes loss in the virtual map where a loved one resided. This challenges the brain to adapt to the new time and space that the loved used to inhabit. Among numerous documented studies of what the brain does to process grief, O'Conner explains acute and/or complicated grief disorder, what resilience and restoration is in reference to grief, and many more fascinating studies and insights on the topic. I found this book to be a great indirect "therapy session" with this wise psychologist.
I recommend anyone who is currently experiencing grief to read "The Grieving Brain," because learning the deep lessons of grief helps us re-integrate and heal the mind/body connection. Grief is real and stressful. Learning to understand it and restore oneself is well worth the challenge. For more information on Dr. O'Conners work, see her website https://maryfrancesoconnor.org/about and her TedTalk "How do our brains handle grief?" She also gives interviews on Youtube. Check out her book through the Lake County Library system, or purchase your own copy. 
Until the book ends,
Esther Suarez
Lake County Hospice Volunteer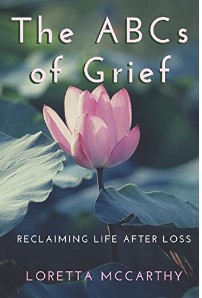 Like many, a love of learning motivates me to read. Some books also provide a pleasant surprise. Such was the case with "The ABC's of Grief: Reclaiming Life After Loss" by Loretta McCarthy. In the Forward section, I discovered that the author was a volunteer for Lake County Hospice! A book by a fellow hospice volunteer was just what I have been wanting to find! Feeling inspired, I read the book in one sitting. Of the many books on grief, I often wonder which might be the most helpful to offer one experiencing deep grief? At 92 pages, this book feels more like a pamphlet to offer, so less likely to seem a burden. The title "ABC's…" doesn't mean there is a  corresponding chapter for every letter. Rather, this comprehensive book illustrates a universal language for all the thoughts and feelings a grieving person can experience. Chapter titles such as: "Earthquake, Yelling, Zone Zero, Harvest" lead one into new perspectives on how grief manifests and how to recalibrate life after loss. Folded into the beginning of each chapter are the author's personal experiences with grief, which makes the book all the more compelling. It is comforting for a grieving person to feel deeply understood by someone who has also experienced intimate loss. In this way, sharing pain together can open a portal to a renewed sense of self within a supportive community. The book also provides "Simple Tributes and Meditations" that can help the bereaved find a more peaceful path forward. While on the last page of the book, a hummingbird visited me (a rare event), which helped confirm to me this book is something special. I highly recommend offering Loretta McCarthy's book to anyone that needs a little book on their night stand, to slowly read, and breathe, as grief ebbs, and flows…
Find this book in the Lake County Library system, or purchase at your preferred book outlets and online. 
Until the book ends, 
Esther Suarez- Hospice of Lake County Volunteer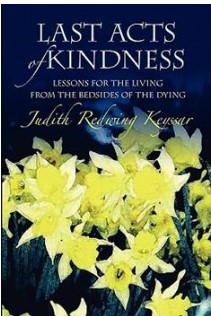 I try not to judge a book by its title, since many titles are similar, especially those on death. Beyond the title, I make sure to study the table of contents. What piqued my interest about "Last Acts of Kindness-Lessons For The Living From The Bedside of the Dying," by RN and death doula Judith Redwing Keyssar, was how the table of contents is organized into four main parts. The first three are stories of people who died in hospital settings, residential care facilities, and at home; the last is, planning for the inevitable. All of which had my curiosity turned up.
A key lesson from the book for me, is the importance of advocating for myself and family members, regardless of where death takes place, and to always stay humble, curious and flexible in the process. Dying in a hospital, a residential care facility or at home can, naturally, be difficult, yet also quite beautiful. How the care team, patients, and their families accept the dying process is crucial to a peaceful closure. Even though home deaths can be ideal, I found comfort in the stories about peaceful hospital deaths where nurses, like the author, understand the medical and emotional needs of the dying. Also, reading about heart-felt friendships that developed between perfect strangers, dying in residential care facilities, illuminated the beauty of how love can be shared anywhere, anytime.
Throughout this book, "Redwing" demonstrates death midwifery at its best. The importance of having cultural competency, and listening from a place of humility and authenticity are masterfully illustrated. Quotes I enjoyed: "The importance of listening cannot be overstated. Spending time getting to know a dying patient's cultural history and beliefs is as important as understanding their medical history." "We must encourage the understanding that the last breaths are as holy as the first ones and it's an honor to witness them, not a curse." "It is time to reflect on the depth of creation and the profound meaning of impermanence." 
A meditation on impermanence was certainly my experience reading this book. To fully live is to fully accept impermanence. 
Being in two end-of-life book clubs, I am impressed when I find a book that is truly book club worthy. This book is a great choice, not only because of the author's wisdom and insights, but also because of the wonderful "List of Questions," and "Ideas to Consider" found at the beginnings of Part One and Two. You'll find yourself saying "Oh, that's a good idea, I hadn't thought of that!" The glossary of terms and websites listed at the end is a great resource, too. You can find this book in the Lake County Library system, or purchase it in stores or online. Check out the author's website https://redwingkeyssar.com for more wonderful resources. 
Until the book ends,
Esther Suarez
Hospice of Lake County Volunteer