Wings of Hope Programs

We offer three Wings of Hope Family Bereavement Camps each year, two (2)-one day and one (1)- three day camps.  These retreats/camps are open to Lake County residents and their children who have lost a loved one.  Children have to be at least 5 years of age.  All participants will be pre-screened prior to attendance.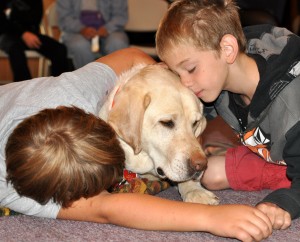 All projects are geared towards dialogue and healing together as a family.  Each camp includes Equine (horse) therapy, dog therapy, art projects, interactive groups, and fun games in the beauty of nature.  Also, included are nourishing meals and snacks, massage, music and much more.  The camp is free to participants.  It is funded through proceeds from the Hospice Services of Lake County Thrift Stores, fundraisers, grants and private donations.
"Thank you for a most wonderful 3 days.  There was a breakthrough for our child.  We are forever grateful to see our children laugh again." 
"Everything had its purpose in the healing process.  Camp was very special.  It gave me hope and peace.  It was a safe place to discuss and deal with the emotional pain and our loss.  It was nice to see the kids meet other kids and to share their memories and stories and projects together.  They did not feel so alone. We are so grateful, thank you, thank you, thank you!!!"
"The experience of the retreat as a whole was incredible!  I don't know what my family would have done without this experience.  We were hurting a lot more than we ever realized." 
 Wings of Hope School Program
When it is once deemed safe due to COVID -19 we look forward to resuming our school based program.
Small grief groups are offered within our county schools for children who experienced the death of a loved one.  A support person from each school attends the group with our Bereavement Specialist to establish an ongoing connection of trust and support within the school.  In addition, parents and teachers are included to track and support the child's progress.  Fun enjoyable activities are provided to honor the memories of the relationship with the loved one who died.  In addition they learn coping strategies to help them express their thoughts and feelings.
Comments from Parents:
"My daughter isn't angry anymore.  We talk about her brother more easily now." 
"My son is sleeping better."
Comments from Teachers:
"It is so nice to have her back!  She is relaxed and is a joy to have in class!  Thank you for this program. "
"He's not sleeping in class, is much more alert and is participating again."
Comments from Students:
"It helped me to think of my Daddy and be happy."
"I see now that I'm not alone.  It helped me to be stronger and know it'll be okay."